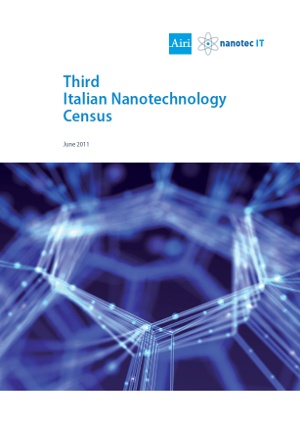 Version
Dimensioni file

5 MB

File Count

1

Data di Pubblicazione

21 Giugno 2011

Ultimo aggiornamento

8 Ottobre 2020
Third Italian Nanotechnology Census 2011.
Nanotechnologies are widely recognized as one of the driving forces of the future technological development and the activity in this field has steadily increased worldwide during the past decade. The effort has been at first propelled by public funds, but later on private funding has become more and more relevant. In 2009 total spending for R&D in nanotechnology was estimated around US$ 18.5 billion globally (including government, corporate R&D and venture capital), with government funds accounting for about 40% of the total.
Nanotechnologies are still in the starting phase of their development, but nano-related products and processes are already available. A recent survey counted more than 1400 nano-related consumer products that are flanking the numerous industrial applications of nanotech.
The present market value of these products and the forecasts for the future are difficult to estimate and different figures are available. But in any case expectations are very high.
According to Lux Research, "a total US$224 billion worth of final products sold worldwide made some use of nanotechnology components in 2009" and "the essential nanotechnology components (nanointermediates) that went into these products amounted to US$29 billion worth of sales". The global market for nano-related products is going to grow steadily in the forthcoming years, with estimates for the 2015 varying from US$ 500 billion to US$ 3000 billion!
The strategic importance of nanotechnologies is recognized also in Italy since some time and the present AIRI/Nanotec IT Census of nanotechnology in Italy follows those published in 2004 and 2006, which provided a detailed overview of the rather intense and growing R&D activity in this field, involving both public research institutions and private enterprises.
This 3rd Census, reporting data for the period 2006-2009, confirms those findings and, in particular, the growing commitment in the field of industry. Private organizations now represent some 45% of all structures listed in the Census, up from the 20% of the first Census in 2004.
The picture does not pretend to be exhaustive, but certainly it's highly representative since the large part of those working in this field are present, so making of this document a source of information of reference for anybody working in this sector or simply willing to know what is going on.
It provides also the necessary knowledge base to build any action aimed to promote and support the development of these enabling technologies. The role of nanotechnologies in promoting innovation is recognized worldwide, and therefore it is fundamental that also in Italy there is a convinced and effective commitment at all levels to build a strong competitive position in the field.